Chapter 7. Breaking Free of Bondage
"And that they may recover themselves out of the snare of the devil, who are taken captive by him at his will" (2 Timothy 2:26).
The slave master
"Stand fast therefore in the liberty wherewith Christ hath made us free, and be not entangled again with the yoke of bondage" (Gal. 5:1).
The Bible teaches that accepting Christ means obtaining freedom. This may sound strange. Aren't you already free? Can't you do whatever you want and don't you have the freedom of choice? What then are you a slave to, and who is it that holds you in bondage? To answer that, lets start at the beginning.
We know from the story of Adam and Eve, that a being, disguised as a serpent was working against God to entice the couple to disobey God.
"Now the serpent was more subtil than any beast of the field which the LORD God had made. And he said unto the woman, Yea, hath God said, Ye shall not eat of every tree of the garden? And the woman said unto the serpent, We may eat of the fruit of the trees of the garden: But of the fruit of the tree which is in the midst of the garden, God hath said, Ye shall not eat of it, neither shall ye touch it, lest ye die. And the serpent said unto the woman, Ye shall not surely die: For God doth know that in the day ye eat thereof, then your eyes shall be opened, and ye shall be as gods, knowing good and evil" (Genesis 3:1-5).
We learn in other books of the Bible that the serpent was actually Satan, who was originally created perfect, but later rebelled against God and was cast out of heaven (Rev. 12:7-9, Ez. 28:13-19, Is. 14:12-14, Luke 10:18). In order for all to see the true character of Satan, the natural results of Satan's type of government and the utter falsity of his accusations against God, God has allowed sin and suffering to continue until the truth is made plain to all.
"And there was war in heaven: Michael and his angels fought against the dragon; and the dragon fought and his angels, And prevailed not; neither was their place found any more in heaven. And the great dragon was cast out, that old serpent, called the Devil, and Satan, which deceiveth the whole world: he was cast out into the earth, and his angels were cast out with him" (Revelation 12:7-9).
"Not until the death of Christ was the character of Satan clearly revealed to the angels or to the unfallen worlds. The archapostate had so clothed himself with deception that even holy beings had not understood his principles. They had not clearly seen the nature of his rebellion. It was a being of wonderful power and glory that had set himself against God. Of Lucifer the Lord says, 'Thou sealest up the sum, full of wisdom, and perfect in beauty.' Ezek. 28:12. Lucifer had been the covering cherub. He had stood in the light of God's presence. He had been the highest of all created beings, and had been foremost in revealing God's purposes to the universe. After he had sinned, his power to deceive was the more deceptive, and the unveiling of his character was the more difficult, because of the exalted position he had held with the Father. God could have destroyed Satan and his sympathizers as easily as one can cast a pebble to the earth; but He did not do this. Rebellion was not to be overcome by force. Compelling power is found only under Satan's government. The Lord's principles are not of this order. His authority rests upon goodness, mercy, and love; and the presentation of these principles is the means to be used. God's government is moral, and truth and love are to be the prevailing power" (The Desire of Ages 758.3).
Though Adam and Eve were not created with any selfish tendencies, when they mistrusted God and chose to believe the serpent, their desire for self-indulgence was unleashed and they came under Satan's rule. They separated from God. Every human after them, has also come under Satan's rule. From birth, humans are powerless to resist doing what Satan rules for them to do. When separated from God, humans do Satan's will, uplifting self and doubting God.
"Wherein in time past ye walked according to the course of this world, according to the prince of the power of the air, the spirit that now worketh in the children of disobedience: Among whom also we all had our conversation in times past in the lusts of our flesh, fulfilling the desires of the flesh and of the mind; and were by nature the children of wrath, even as others" (Ephesians 2:2-3).
"And that they may recover themselves out of the snare of the devil, who are taken captive by him at his will" (2 Timothy 2:26).
"For we wrestle not against flesh and blood, but against principalities, against powers, against the rulers of the darkness of this world, against spiritual wickedness in high places" (Ephesians 6:12).
"But if our gospel be hid, it is hid to them that are lost: In whom the god of this world hath blinded the minds of them which believe not, lest the light of the glorious gospel of Christ, who is the image of God, should shine unto them" (2 Corinthians 4:3-4).
"For all have sinned, and come short of the glory of God" (Romans 3:23).
"At the very beginning of man's [Adam and Eve] existence a check was placed upon the desire for self-indulgence, the fatal passion that lay at the foundation of Satan's fall. The tree of knowledge, which stood near the tree of life in the midst of the garden, was to be a test of the obedience, faith, and love of our first parents" (God's Amazing Grace 40.4).
"Your will is the spring of all your actions. This will, that forms so important a factor in the character of man, was at the Fall given into the control of Satan; and he has ever since been working in man to will and to do of his own pleasure, but to the utter ruin and misery of man" (Mind, Charaacter, and Personality Volume 2 685.3).
Enmity
We are not only born in a state that is naturally disposed to be disobedient to God, but the nature we are born with is directly opposed to God! The following text reveals that we have hostility towards, and even hate, God.
"Because the carnal mind is enmity [hatred, hostility] against God: for it is not subject to the law of God, neither indeed can be" (Romans 8:7).
This is shocking. Do you hate God and His law? Evidently, until being born again, you are hostile towards God. This translates into rejecting His commands, indulging in harmful habits, resisting His influence and mocking His followers. This enmity is a natural part of you, keeping you from loving your creator, and causing you to love the ways of His adversary, Satan. However, enmity can go both ways. When Adam and Eve originally chose Satan, God promised to "put enmity" between the serpent and the woman.
"And I will put enmity between thee and the woman, and between thy seed and her seed; it shall bruise thy head, and thou shalt bruise his heel" (Genesis 3:15).
"But when Satan heard the declaration that enmity should exist between himself and the woman, and between his seed and her seed, he knew that his efforts to deprave human nature would be interrupted; that by some means man was to be enabled to resist his power" (The Great Controversy 505.3).
"Christ is the "Light, which lighteth every man that cometh into the world.' John 1:9. As through Christ every human being has life, so also through Him every soul receives some ray of divine light. Not only intellectual but spiritual power, a perception of right, a desire for goodness, exists in every heart. But against these principles there is struggling an antagonistic power. The result of the eating of the tree of knowledge of good and evil is manifest in every man's experience. There is in his nature a bent to evil, a force which, unaided, he cannot resist. To withstand this force, to attain that ideal which in his inmost soul he accepts as alone worthy, he can find help in but one power. That power is Christ. Co-operation with that power is man's greatest need" (Education 29.1).
The enmity you have for God can be replaced with enmity for Satan. This enmity is the new nature Christ offers to implant within you. The new nature gives you power to resist Satan, freeing you, because it causes you to have great hatred for sin. At the same time, it brings about love toward God and your fellow human beings.
"The grace that Christ implants in the soul . . . creates in man enmity against Satan. Without this converting grace and renewing power, man would continue the captive of Satan, a servant ever ready to do his bidding. But the new principle in the soul creates conflict where hitherto had been peace. The power which Christ imparts, enables man to resist the tyrant and usurper. Whoever is seen to abhor sin instead of loving it, whoever resists and conquers those passions that have held sway within, displays the operation of a principle wholly from above" (The Faith I Live By 117.3).
Reconciliation
When your hatred for God ends, you become reconciled to Him, no longer having enmity towards Him and His law.
Reconcile means to mutually change (from the Greek words apokatallasso and katallasso). It is the word used for married couples who have separated, when they get back together. There is a change not only in legal standing or social status but in the entire life. Being reconciled to God is a mutually agreed upon change that affects every aspect of your life.
Definition:
Reconciliation With God: A union of love between God and you that results from performing a mutual agreement in which God sets forth His Son to bear the consequences of your hate and sins against Him and you accept that act of atonement and allow the Holy Spirit to enable you to truly love God and stop sinning against Him.
"And you, that were sometime alienated and enemies in your mind by wicked works, yet now hath he reconciled" (Colossians 1:21).
"It is the work of conversion and sanctification to reconcile men to God by bringing them into accord with the principles of His law. In the beginning, man was created in the image of God. He was in perfect harmony with the nature and the law of God; the principles of righteousness were written upon his heart. But sin alienated him from his Maker. He no longer reflected the divine image.... But "God so loved the world, that He gave His only-begotten Son," that man might be reconciled to God. Through the merits of Christ he can be restored to harmony with his Maker.--The Great Controversy, pp. 466, 467" (Reflecting Christ 46.6).
"In the new birth the heart is brought into harmony with God, as it is brought into accord with His law. When this mighty change has taken place in the sinner, he has passed from death unto life, from sin unto holiness, from transgression and rebellion to obedience and loyalty" (A New Life 12.3).
"In the work of redemption there is no compulsion. No external force is employed. Under the influence of the Spirit of God, man is left free to choose whom he will serve. In the change that takes place when the soul surrenders to Christ, there is the highest sense of freedom. The expulsion of sin is the act of the soul itself. True, we have no power to free ourselves from Satan's control; but when we desire to be set free from sin, and in our great need cry out for a power out of and above ourselves, the powers of the soul are imbued with the divine energy of the Holy Spirit, and they obey the dictates of the will in fulfilling the will of God" (The Desire of Ages 466.4).
Choosing Your Ruler
Without a new nature, you have no power to resist Satan, and are therefore a slave to His wishes. If you don't allow Christ to overcome the selfish nature in you, then you are, by default, in Satan's control and in bondage. Unfortunately, the selfishness Satan promotes only results in temporary pleasure, pain and suffering, followed by death. But Satan, his angels and most humans choose this way because they perceive selfishness as freedom. Learning of the larger picture and the truth of the universe, reveals that
exactly the opposite is true
. Being selfless and loving others is the only way to be truly free and have a society that can exist in peacefulness and happiness. Even though the dim picture of human life as promoted by Satan is experienced by all (because we are born into it), we know there is another option! God provides a way for humans to escape from their harsh ruler, and obtain their freedom.
"Forasmuch then as the children are partakers of flesh and blood, he also himself likewise took part of the same; that through death he might destroy him that had the power of death, that is, the devil; And deliver them who through fear of death were all their lifetime subject to bondage" (Hebrews 2:14-15).
"He that committeth sin is of the devil; for the devil sinneth from the beginning. For this purpose the Son of God was manifested, that he might destroy the works of the devil" (1 John 3:8).
"Wherefore he saith, When he ascended up on high, he led captivity captive, and gave gifts unto men" (Ephesians 4:8).
"Behold, I give unto you power to tread on serpents and scorpions, and over all the power of the enemy" (Luke 10:19).
"But God be thanked, that ye were the servants of sin, but ye have obeyed from the heart that form of doctrine which was delivered you. Being then made free from sin, ye became the servants of righteousness" (Romans 6:17-18).
"Jesus came to restore in man the image of his Maker. None but Christ can fashion anew the character that has been ruined by sin. He came to expel the demons that had controlled the will." (The Faith I Live By 142.2).
Christ came to earth and died, so that He might give humans a second chance to choose Him as their ruler, instead of Satan. If you choose Christ, you will receive a new nature from Him, freeing you from that overwhelming pull of sin and selfishness.
If you reject Christ as your ruler, you have no power to overcome, and will continue to do exactly what your serpent ruler wishes you to do
(which may often be disguised in a cloak of "goodness"). Remember that there is no middle ground. You are either controlled by Satan or willingly submitted to God.
"He that is not with me is against me; and he that gathereth not with me scattereth abroad" Matt. 12:30.
"When the mind is not under the direct influence of the Spirit of God, Satan can mold it as he chooses" (Mind, Character, and Personality Volume 1 238.1).
"If you refuse to come to God and confess your backslidings that He may heal you, there is nothing to be hoped for you or your poor family in the future. Misery will follow upon the steps of sin. God's hand will be against you, and He will leave you to be controlled by Satan, to be led captive by him at his will" (Testimonies for the Church V2 303.3).
Definition:
Breaking Free of Bondage: Choosing Christ as your ruler instead of Satan, which enables Christ to give you a new heart with the power to turn away from sin and no longer be controlled by evil and selfish desires.
Staying Free
You are not born a sinner, however you are born under the power of sin. You are naturally inclined to desire and commit sin, with your will having no power to resist the will of your ruler, Satan. Without changing rulers, you would never be free or powerful enough to follow your own will. However, having made the choice to accept Christ as your ruler, and having an understanding of what it means to be free from bondage, your enjoyment and liberty will know no bounds. However, there is one piece of bad news. Satan wants you back. Even after breaking free from Satan's rule, you are warned to constantly be wary of him. He can still tempt you.
"Put on the whole armour of God, that ye may be able to stand against the wiles of the devil" (Ephesians 6:11).
"Submit yourselves therefore to God. Resist the devil, and he will flee from you" (James 4:7).
"Be sober, be vigilant; because your adversary the devil, as a roaring lion, walketh about, seeking whom he may devour: Whom resist stedfast in the faith" (1 Peter 5:8-9).
"Every Christian will be assailed by the allurements of the world, the clamors of the carnal nature, and the direct temptations of Satan. No one is safe. No matter what our experience has been, no matter how high our station, we need to watch and pray continually. We must be daily controlled by the Spirit of God or we are controlled by Satan" (Testimonies for the Church Volume 5 102.1).
"We have no reason to fear while looking to Jesus, no reason to doubt but that He is able to save to the uttermost all that come unto Him; but we may constantly fear lest our old nature will again obtain the supremacy, that the enemy shall devise some snare whereby we shall again become his captives" (AG 302.3).
Learn to Love the Truth - It's a matter of freedom
"And ye shall know the truth, and the truth shall make you free" (John 8:32).
Breaking free of detrimental thoughts and actions requires an understanding and acknowledgement of the problems, not only within your own life, but in the world all around you. Deception is rampant. A successful transformation can only occur as a deep and sincere love of the truth is developed. Practice everday to strive for and appreciate truth.
Truth = Freedom
Ignorance = Slavery
You do not have to succumb to his temptations. Christ gives you back your self control. Remember, Satan and sin, no longer rule over you.
"For sin shall not have dominion over you: for ye are not under the law, but under grace" (Romans 6:14).
"If thou doest well, shalt thou not be accepted? and if thou doest not well, sin lieth at the door. And unto thee shall be his desire, and thou shalt rule over him" (Genesis 4:7) [sin wants to control you, but you must be the master of it].
"Satan cannot touch the mind or intellect unless we yield it to him" (Mind, Character, and Personality Volume 2 710.2).
"We cannot, of ourselves, conquer the evil desires and habits that strive for the mastery. We cannot overcome the mighty foe who holds us in his thrall. God alone can give us the victory. He desires us to have the mastery over ourselves, our own will and ways" (MB 141.3).
"We must dwell more on the results of genuine conversion. Not only is the sinner forgiven when he repents and confesses his iniquity; he becomes a child of God, . . . an heir of God and a joint heir with Christ to an immortal inheritance. . . . The power of Satan is broken. Man is brought into sacred unity with Christ. There is not a soul won to Christ... without defeat to the tempter, and bruising of the head of the serpent. This will arouse the malice of the adversary to greater activity... Alarmed because he is losing his prey, Satan will first seek to deceive, next to oppress and persecute. Evil men, rebuked by the precept and example of those who come to the light of Bible truth, will become agents of the great adversary of souls and will leave no means untried to draw them away from their allegiance to God and induce them to leave the narrow path of holiness. But none need to be alarmed and afraid. God's word is pledged that if they are true to principle, if they believe and obey all God's requirements, they are members of the royal family, children of the heavenly King. They are certain to have enlisted in their behalf the agencies of heaven and to come off victorious through the merits of Christ--more than conquerors through Him that loved them" (Our High Calling 89.3-5).
"Every Christian will be assailed by the allurements of the world, the clamors of the carnal nature, and the direct temptations of Satan. No one is safe. No matter what our experience has been, no matter how high our station, we need to watch and pray continually. We must be daily controlled by the Spirit of God or we are controlled by Satan" (Testimonies for the Church Volume five 102.1).
"Satan's plans and devices are soliciting us on every hand. We should ever remember that he comes to us in disguise, covering his motives and the character of his temptations. He comes in garments of light, clad apparently in pure angel robes, that we may not discern that it is he. We need to use great caution, to closely investigate his devices, lest we be deceived. Satan has his evil angels around us; and though they cannot read men's thoughts, they closely watch their words and actions. Satan takes advantage of the weaknesses and defects of character that are thus revealed, and presses his temptations where there is the least power of resistance. He makes evil suggestions, and inspires worldly thoughts, knowing that he can thus bring the soul into condemnation and bondage. To those who are selfish, worldly, avaricious, proud, faultfinding, or given to detraction--to all who are cherishing errors and defects of character--Satan presents the indulgence of self, and leads the soul off upon a track that the Bible condemns.... For every class of temptations there is a remedy. We are not left to ourselves to fight the battle against self and our sinful natures in our own finite strength. Jesus is a mighty helper, a never-failing support.... None need fail or become discouraged, when such ample provision has been made for us" (Our High Calling 88.2-4).
"The Lord Jesus is making experiments on human hearts through the exhibition of His mercy and abundant grace. He is effecting transformations so amazing that Satan, with all his triumphant boasting, with all his confederacy of evil united against God and the laws of His government, stands viewing them as a fortress impregnable to his sophistries and delusions. They are to him an incomprehensible mystery. The angels of God, seraphim and cherubim, the powers commissioned to cooperate with human agencies, look on with astonishment and joy, that fallen men, once children of wrath, are through the training of Christ developing characters after the divine similitude, to be sons and daughters of God, to act an important part in the occupations and pleasures of heaven" (The Faith I Live By 142.3).
"The soul that is converted will be made stronger to resist evil" (Fundamentals of Christian Education 378.1).
"Strength of character consists of two things--power of will and power of self-control. Many youth mistake strong, uncontrolled passion for strength of character; but the truth is that he who is mastered by his passions is a weak man. The real greatness and nobility of the man is measured by his powers to subdue his feelings, not by the power of his feelings to subdue him. The strongest man is he who, while sensitive to abuse, will yet restrain passion and forgive his enemies" (Maranatha 223.4).
"It will require a sacrifice to give yourself to God; but it is a sacrifice of the lower for the higher, the earthly for the spiritual, the perishable for the eternal. God does not design that our will should be destroyed, for it is only through its exercise that we can accomplish what He would have us do. Our will is to be yielded to Him that we may receive it again, purified and refined, and so linked in sympathy with the Divine that He can pour through us the tides of His love and power" (Mind, Character, and Personality Volume 2 693.4).
Your selfish nature becomes overcome by Christ's divine nature within you. As long as you keep Christ as your ruler, that old nature remains subdued, and will eventually be forever eliminated. But, until that time comes, you must daily renew your commitment to Christ and be constantly on the alert. It is disastrous and unimaginably foolish to willingly return to the bondage from which you have so narrowly escaped.
Next Bible Term: Receiving Pardon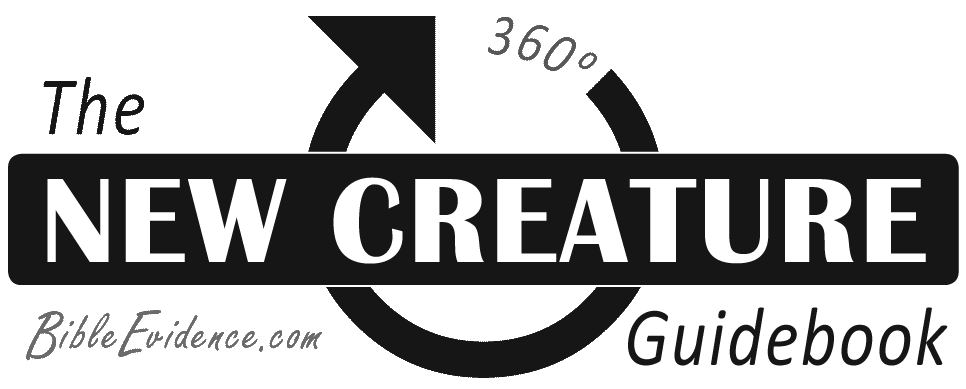 Part One: Emerge
Conversion: The singular instance in time when you become willing and equipped to begin the process of true character transformation.
Part Two: Grow
Overcoming: The process of character transformation and development.
Part Three: Mature
Authentication: The testing and proving of character and its rewards.