Chapter 10. Entering Through the Door
"I am the door: by me if any man enter in, he shall be saved, and shall go in and out, and find pasture" (John 10:9).
The door
The thought of becoming a new creature is enticing!
Being in control of your desires and emotions.
Becoming capable of true love.
Having a divine presence in your mind.
Being saved from slavery and certain death.
In the first few chapters of this study, we've only begun to explore the many benefits of becoming a new creature. You'll find increasingly exciting results as we proceed. As such, we want to be sure to know how to take the first step in order to personally participate in all these things.
The first thing to do, is to recognize that transformation, with all its many associated gifts, is freely available from God.
"Every good gift and every perfect gift is from above, and cometh down from the Father of lights, with whom is no variableness, neither shadow of turning" (James 1:17).
God devised a plan, which is often called "The Plan of Salvation" that outlines how anyone can receive these gifts and be transformed. The plan, as revealed in the Bible, clearly points us in one direction. There is one central focus. There is one way to God. There is one "door" into the world of good gifts and eternity.
"I am the door: by me if any man enter in, he shall be saved, and shall go in and out, and find pasture" (John 10:9).
"For God hath not appointed us to wrath, but to obtain salvation by our Lord Jesus Christ" (1 Thessalonians 5:9).
"Be it known unto you all, and to all the people of Israel, that by the name of Jesus Christ of Nazareth, whom ye crucified, whom God raised from the dead, even by him doth this man stand here before you whole. This is the stone which was set at nought of you builders, which is become the head of the corner. Neither is there salvation in any other: for there is none other name under heaven given among men, whereby we must be saved" (Acts 4:10-12).
Since Jesus is the one and only door, the key to participation is to find Jesus. One would need to seek Him out and search for Him.
"That they should seek the Lord, if haply they might feel after him, and find him, though he be not far from every one of us" (Acts 17:27).
"And I say unto you, Ask, and it shall be given you; seek, and ye shall find; knock, and it shall be opened unto you" (Luke 11:9).
It is comforting to know that the process of seeking is not one sided. Jesus is also seeking you. In fact, He always finds you first and remains close by you so it is easier to find Him.
"For the Son of man is come to seek and to save that which was lost" (Luke 19:10).
"Behold, I stand at the door, and knock: if any man hear my voice, and open the door, I will come in to him, and will sup with him, and he with me" (Revelation 3:20).
God has made the first move. Even while you were against Him, in rebellion and at enmity, He sought you out. He has made every provision necessary, plus much more. He even sent you a personal guide, the Holy Spirit, who teaches and influences you to proceed in the right direction. Whether you have never known Jesus or if you once knew Him but separated yourself, you have the opportunity to respond to His love, learn more about Him, recognize His goodness, and thus find Him.
Where do I look for Jesus?
The big question remains. "How do I find Jesus?" There are many and varied places where people find Jesus. Each person is in a different place in his or her life, and Jesus finds you where you are. Even though the place you find Jesus may be unique, the methods you can use to find Him are revealed in the Bible. Let's look at some Biblical methods for finding Jesus.
A. Understand What Happened at the Cross
"And Moses made a serpent of brass, and put it upon a pole, and it came to pass, that if a serpent had bitten any man, when he beheld the serpent of brass, he lived" (Numbers 21:9).
"And as Moses lifted up the serpent in the wilderness, even so must the Son of man be lifted up: That whosoever believeth in him should not perish, but have eternal life" (John 3:14-15).
"How, then, are we to be saved? 'As Moses lifted up the serpent in the wilderness,' so the Son of man has been lifted up, and everyone who has been deceived and bitten by the serpent may look and live. 'Behold the Lamb of God, which taketh away the sin of the world.' John 1:29. The light shining from the cross reveals the love of God. His love is drawing us to Himself. If we do not resist this drawing, we shall be led to the foot of the cross in repentance for the sins that have crucified the Saviour" (The Desire of Ages 175.5).
"If sinners can be led to give one earnest look at the cross, if they can obtain a full view of the crucified Saviour, they will realize the depth of God's compassion and the sinfulness of sin. Christ's death proves God's great love for man. It is our pledge of salvation. To remove the cross from the Christian would be like blotting the sun from the sky. The cross brings us near to God, reconciling us to Him. With the relenting compassion of a father's love, Jehovah looks upon the suffering that His Son endured in order to save the race from eternal death, and accepts us in the Beloved... Through the cross we learn that the heavenly Father loves us with a love that is infinite" (Acts of the Apostles 210.1).
"If we would be saved at last we must all learn the lesson of penitence and faith at the foot of the cross. Christ suffered humiliation to save us from everlasting disgrace. He consented to have scorn, mockery, and abuse fall upon Him in order to shield us. It was our transgression that gathered the veil of darkness about His divine soul and extorted the cry from Him, as of one smitten and forsaken of God. He bore our sorrows; He was put to grief for our sins. He made Himself an offering for sin, that we might be justified before God through Him. Everything noble and generous in man will respond to the contemplation of Christ upon the cross" (Lift Him Up 240.4).
Study the life, death and ressurection of Jesus. Start by reading the gospels of Matthew, Mark, Luke and John. This will draw your eyes right toward Jesus and you will find Him. You may find yourself looking at the cross and saying "I don't want sin if that is what it does." Meditating on the meaning of Christ's actions, the suffering He endured, the value of human souls, and the love clearly manifested, will draw your heart and affections to Him. You will feel His love shine on you.
B. Comprehend God's Goodness
"...for he maketh his sun to rise on the evil and on the good, and sendeth rain on the just and on the unjust" (Matthew 5:45).
"Thus saith the LORD; Cursed be the man that trusteth in man, and maketh flesh his arm, and whose heart departeth from the LORD. For he shall be like the heath in the desert, and shall not see when good cometh; but shall inhabit the parched places in the wilderness, in a salt land and not inhabited" (Jeremiah 17:5-6).
"...men have the power to shut themselves away from sunshine and shower. So while the Sun of Righteousness shines, and the showers of grace fall freely for all, we may by separating ourselves from God still "inhabit the parched places in the wilderness. The love of God still yearns over the one who has chosen to separate from Him, and He sets in operation influences to bring him back to the Father's house. The prodigal son in his wretchedness 'came to himself.' The deceptive power that Satan had exercised over him was broken. He saw that his suffering was the result of his own folly, and he said, "How many hired servants of my father's have bread enough and to spare, and I perish with hunger! I will arise and go to my father." Miserable as he was, the prodigal found hope in the conviction of his father's love. It was that love which was drawing him toward home. So it is the assurance of God's love that constrains the sinner to return to God. "The goodness of God leadeth thee to repentance." Rom. 2:4. A golden chain, the mercy and compassion of divine love, is passed around every imperiled soul" (Christ's Object Lessons 202.1).
A misunderstanding of the source of all the suffering we experience and see around us is a major cause of doubt and avoidance of spiritual matters. Studying God's word reveals that the freedom of choice given to angels and humans has been misused, thus causing suffering. Blaming God is incorrect and causes a misunderstanding of God that drives people away from Him. Rather, understanding His love and right ways, will draw you to Him and an appreciation for His government.
"The earth was dark through misapprehension of God. That the gloomy shadows might be lightened, that the world might be brought back to God, Satan's deceptive power was to be broken. This could not be done by force. The exercise of force is contrary to the principles of God's government; He desires only the service of love; and love cannot be commanded; it cannot be won by force or authority. Only by love is love awakened. To know God is to love Him; His character must be manifested in contrast to the character of Satan. This work only one Being in all the universe could do. Only He who knew the height and depth of the love of God could make it known. Upon the world's dark night the Sun of Righteousness must rise, 'with healing in His wings.' Mal. 4:2" (The Desire of Ages 22.1).
His government is based on the concepts of truthfullness and willing service, which means that each person gains a true understanding of it and looks out for the good of others as a priority, because they want to. It is a demonstrated system, with Jesus as the epitome of selflessness, giving His life.
The alternate government that Satan is presenting in this world is based on deception. He doesn't care if you hear or understand something, just as long as you comply. It is based on the concept of "self," which means that each person is encouraged to focus on uplifting themselves. The importance of humans is elevated and the sacrifice and goodness of God is brought down.
Don't allow misconceptions of God to keep you away from Him. Learn the truth about how He really operates and you will see "the door" and want to step right into His kingdom.
C. Learn About God's Law
"Wherefore the law was our schoolmaster to bring us unto Christ, that we might be justified by faith" (Galatians 3:24).
Take a moment to imagine something that you really like, and often partake in, but you know isn't for your own or others good. You may not have any desire to give it up. Or you may wish to give it up, but the pull it has on you is too strong. It is easy to make excuses for this behavior, or to downplay the negative effects. It is hard to admit that a vice has control of you.
There are different approaches taken to overcome a vice. Some just hide it and continue to happily do it, so that they look quite "good" and controlled in the eyes of others. Others struggle to overcome it. They grit their teeth and force themselves not to do it. They may change their behavior, but inwardly have the same attraction to it, and this is miserable.
"But be ye doers of the word, and not hearers only, deceiving your own selves. For if any be a hearer of the word, and not a doer, he is like unto a man beholding his natural face in a glass: For he beholdeth himself, and goeth his way, and straightway forgetteth what manner of man he was. But whoso looketh into the perfect law of liberty, and continueth therein, he being not a forgetful hearer, but a doer of the work, this man shall be blessed in his deed" (James 1:22-25).
Studying God's law not only helps you become aware that something you are doing is wrong, but it helps you realize that you need help in order to keep it in action AND thought. You start understanding that you really are out of control and pitiful, and you can't fix it. This gets you to start seeking a power outside of yourself. Your focus shifts. You suddenly see Someone that has been right there all along! You ask for His help and He gives it to you.
"'By the law is the knowledge of sin' (Rom. 3:20); for 'sin is the transgression of the law' (1 John 3:4). It is through the law that men are convicted of sin; and they must feel themselves sinners, exposed to the wrath of God, before they will realize their need of a Saviour. Satan is continually at work to lessen man's estimate of the grievous character of sin. And those who trample the law of God under their feet are doing the work of the great deceiver; for they are rejecting the only rule by which they can define sin, and bring it home to the conscience of the transgressor" (Selected Messages Book 1 219.1).
D. Study Prophecy
"And now I have told you before it come to pass, that, when it is come to pass, ye might believe" (John 14:29).
If a scientist were to tell you that there would be an earthquake in three days, would you believe him? If three days pass and the earthquake occurs as predicted, you would certainly be more apt to believe him the next time he makes a prediction.
The Bible is full of predictions. Its author has really put Himself on the line. But, as those things do come to pass, with exacting accuracy, many believe His other statements as a result. Studying prophecy is a great way to find Jesus, because it not only increases your faith, but shows you what Jesus has been doing, what He is doing, what He will do, and where He is at during the process.
One of the most amazing prophecies is found in Daniel 9. It shows exactly where Christ would be during certain points in time. The prophecy is regarding seventy weeks of time that is cut off from a larger time span of 2300 days.
"Seventy weeks are determined upon thy people and upon thy holy city, to finish the transgression, and to make an end of sins, and to make reconciliation for iniquity, and to bring in everlasting righteousness, and to seal up the vision and prophecy, and to anoint the most Holy. Know therefore and understand, that from the going forth of the commandment to restore and to build Jerusalem unto the Messiah the Prince shall be seven weeks, and threescore and two weeks: the street shall be built again, and the wall, even in troublous times. And after threescore and two weeks shall Messiah be cut off, but not for himself: and the people of the prince that shall come shall destroy the city and the sanctuary; and the end thereof shall be with a flood, and unto the end of the war desolations are determined. And he shall confirm the covenant with many for one week: and in the midst of the week he shall cause the sacrifice and the oblation to cease, and for the overspreading of abominations he shall make it desolate, even until the consummation, and that determined shall be poured upon the desolate. (Daniel 9:24-27).
The angel told Daniel that the seventy weeks would begin with the command to restore and rebuild Jerusalem, which occured in 457 BC with the decree by Artaxerxes (Ezra 7:11-28). According to the prophecy, the Messiah could be expected in 69 prophectic weeks (483 years), which would be 27 AD. (Note: 1 prophetic day = 1 literal year in prophecy. The symbolism and internal logic of Daniel and Revelation support this principle. Precendence for using this principle appears in Numbers 14:34, Ez. 4:6, Gen. 6:3, Job 10:5 and Lev. 25:8.) Sure enough, Jesus Christ was baptized and anointed with the Holy Spirit in the fall of 27 AD, which marked the beginning of His ministry (John 1:32-34, Acts 10:38), exactly 69 weeks into the prophecy. Jesus' ministry on earth lasted three and a half years (or half a prophetic week), until he was killed on the cross (" in the midst of the week he shall cause the sacrifice and the oblation to cease"). The gospel was preached primarily to the Jews for three and a half years after Christ's death (Matt. 10:6, Acts 7:57-59), resulting in a total of seven years ("he shall confirm the covenant with many for one week") during which the special covenant God had made with the Jewish nation was being strengthened and confirmed.
There are many additional interesting points in this prophecy, but for now we will just focus on how the prophecy pinpoints the exact date of the Messiah's death. Jesus was in the exact place and time this prophecy predicted, giving His life for others, but not for Himself.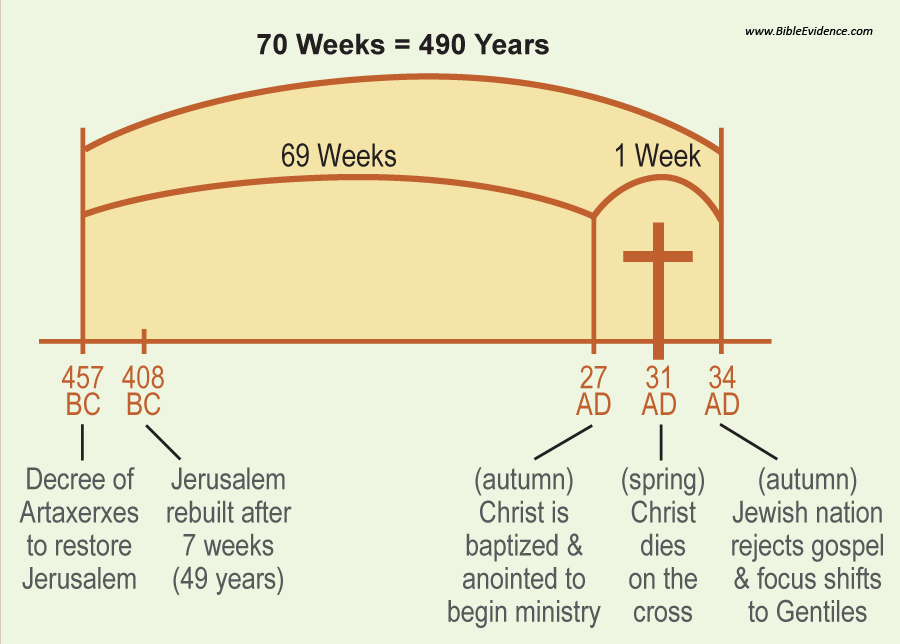 (See
Daniel 9
for more details about this prophecy and how the 70 Weeks are calculated.)
How could anyone have predicted the exact date of Christ's ministry and death ahead of time? Consider that there are over three hundred prophecies in the Old Testament that predict some aspect of Christ's birth, life, ministry and death. Other prophecies predict the rise and fall of nations, the intents and actions of earthly powers and the condition of God's people. How could all these things be predicted acurately, even to the exact date, hundreds of years prior? Only the author of the Bible can claim such precision, volume and a perfect track record. Study into these fascinating prophecies to find out where Jesus is right now and what He is doing for you. You will certainly find Him. (Learn more about
Bible Prophecies
.)
E. Examine Nature
"The heavens declare the glory of God; and the firmament sheweth his handywork" (Psalms 19:1).
"When I consider thy heavens, the work of thy fingers, the moon and the stars, which thou hast ordained; What is man, that thou art mindful of him? and the son of man, that thou visitest him? " (Psalms 8:3-4).
"For the invisible things of him from the creation of the world are clearly seen, being understood by the things that are made, even his eternal power and Godhead; so that they are without excuse" (Romans 1:20).
Take a walk outdoors and look around. Study science. Watch a nature program. You will encounter living things and objects that point you in the direction of the very one you are looking for, their creator, Jesus.
F. Develop a Love of the Truth
"...because they received not the love of the truth, that they might be saved" (2 Thessalonians 2:10).
"Jesus saith unto him, I am the way, the truth, and the life: no man cometh unto the Father, but by me" (John 14:6).
Jesus is the truth. Thus, a search for truth will lead you to Him. Loving the truth means that you no longer wish to accept popular theories and traditions without knowing why. It means a deeper journey into the Bible, a deeper investigation into your own thoughts, and a departure from the buffeting winds of careless thought processes and the surface warmth of comfortable errors.
"The Comforter is called "the Spirit of truth." His work is to define and maintain the truth. He first dwells in the heart as the Spirit of truth, and thus He becomes the Comforter. There is comfort and peace in the truth, but no real peace or comfort can be found in falsehood. It is through false theories and traditions that Satan gains his power over the mind. By directing men to false standards, he misshapes the character. Through the Scriptures the Holy Spirit speaks to the mind, and impresses truth upon the heart. Thus He exposes error, and expels it from the soul. It is by the Spirit of truth, working through the word of God, that Christ subdues His chosen people to Himself" (The Desire of Ages 671.1).
G. Search the Scriptures
"Search the scriptures; for in them ye think ye have eternal life: and they are they which testify of me" (John 5:39).
"And that from a child thou hast known the holy scriptures, which are able to make thee wise unto salvation through faith which is in Christ Jesus. All scripture is given by inspiration of God, and is profitable for doctrine, for reproof, for correction, for instruction in righteousness" (2 Timothy 3:15-16).
The whole Scriptures, Old and New Testaments, point the way to Christ. This is a never-ending source of enlightenment, comfort and wisdom.
H. Listen to the Holy Spirit
"But when the Comforter is come, whom I will send unto you from the Father, even the Spirit of truth, which proceedeth from the Father, he shall testify [give a report of, give evidence, be a witness] of me" (John 15:26).
The Holy Spirit gives you information about Christ. He influences you, teaches you and points you in the direction of Christ. He also points you in the direction of the Scriptures, the law, prophecy and nature, which all help you find Christ. He convicts you of truth. All these methods of finding Christ will agree and be in harmony.
What do I do once I find Jesus?
Once you find Christ Jesus, you have the opportunity to "enter through the door" and receive His many gifts. Walking through that door is the most important step of your entire life. It may also be the most difficult step you've ever taken. The reason it is difficult is because you are submitting control of your desires to God. You know that He will ask you to give up cherished habits and secret things you love to do. You cannot hold back any little bit of yourself. Christ requires 100% surrender in order to enter. Surrendering means that you are willing to be molded, to give up anything He asks you to, and that you're willing to do whatever He asks you to. That's the only way He can 100% transform you.
"Blessed are they that keep his testimonies, and that seek him with the whole heart" (Psalms 119:2).
"And I will give them an heart to know me, that I am the LORD: and they shall be my people, and I will be their God: for they shall return unto me with their whole heart" (Jeremiah 24:7).
"The Lord accepts no divided heart. He wants the whole man. He made all there is of man. He offered a complete sacrifice to redeem the body and soul of man" (Counsels to Parents, Teachers, and Students 345.1).
"God desires to heal us, to set us free. But since this requires an entire transformation, a renewing of our whole nature, we must yield ourselves wholly to Him. The warfare against self is the greatest battle that was ever fought. The yielding of self, surrendering all to the will of God, requires a struggle; but the soul must submit to God before it can be renewed in holiness" (God's Amazing Grace 313.3-4).
Walking through the door means the same as the terms "accepting Christ" and "giving your heart to Christ". It is a free, conscious decision.
Your free will should be fully engaged, your thoughts intentional and your choice deliberate.
To take this step, purpose in your mind the following:
a) I acknowledge that I am selfish and have caused much harm to myself and others. The just result of this is pain and death and I cannot solve this problem without help.
b) I choose to believe that Christ is the divine Son of God, that He came to this earth in human flesh and died for me, that He rose again and now ministers on my behalf.
c) I surrender my selfish desires to Christ and ask Him to impart His power to me, so that I can become truly repentant, transformed, kind and loving.
d) I give my life to Christ and desire to understand His will and obey His words.
While a slave to Satan (see chapter on "Breaking Free of Bondage"), you are not able to change your character or even exert your will above the will of Satan. But, you are able to choose to submit your will to someone else. You can choose to give your will to Christ, which is entering through the door, and He can then help you to mold your will to be in line with His.
"The tempted one needs to understand the true force of the will. This is the governing power in the nature of man-- the power of decision, of choice. Everything depends on the right action of the will. Desires for goodness and purity are right, as far as they go; but if we stop here, they avail nothing. Many will go down to ruin while hoping and desiring to overcome their evil propensities. They do not yield the will to God. They do not choose to serve Him.--MH 176 (1905)" (Mind, Character and Personality Volume 2 685.2).
"The higher powers of the being are to rule. The passions are to be controlled by the will, which is itself to be under the control of God. The kingly power of reason, sanctified by divine grace, is to bear sway in our lives" (Counsels on Diet and Foods 73.6).
"The Spirit of God does not propose to do our part, either in the willing or the doing. This is the work of the human agent in cooperating with the divine agencies. As soon as we incline our will to harmonize with God's will, the grace of Christ stands to cooperate with the human agent; but it will not be the substitute to do our work independent of our resolving and decidedly acting. Therefore it is not the abundance of light, and evidence piled upon evidence, that will convert the soul it is only the human agent accepting the light, arousing the energies of the will, realizing and acknowledging that which he knows is righteousness and truth, and thus cooperating with the heavenly ministrations appointed to God in the saving of the soul" (Mind, Character, and Personality Volume 2 691.3).
Definition:
Entering Through the Door: Intentionally and willingly stepping into Christ's care by acknowledging how much you need Him, believing what He says, letting go of your selfish desires and allowing Him to transform your character as you obey Him.
This surrendering of yourself to Christ is entering through the door, which is the way to salvation. This step in salvation is illustrated by the gate in the earthly sanctuary that God instructed the Israelites to build. The earthly sanctuary was fashioned to illustrate and help us better understand the plan of salvation (see chart below).
Figure 10.3 - The Earthly Sanctuary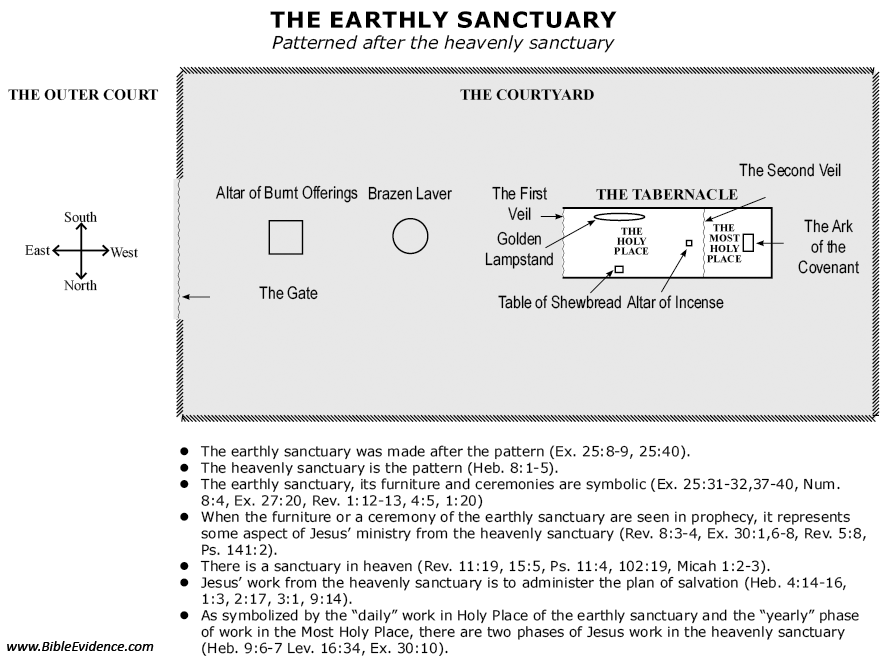 Faith - Notice that you have to enter the gate before accessing any of the items inside. Giving yourself into Christ's hands and fully committing to follow Him (surrender), is the first step. Once you step through the door, you are surrounded by the white courtyard walls, which let you know that you are now saved because Christ's righteousness is totally covering you. Staying inside the door, through faith, is an ongoing requirement.
Repentance - Once inside, the first thing you encounter is the altar where the sins were confessed over the lamb that was then sacrificed. Christ gives you repentance as a gift. Whenever He reveals a sin to you, you confess it as you trust in Him to pardon you based on His substitionary sacrifice. The confession of any known sin is an ongoing requirement.
Obedience - You then proceed to the laver, where the priests would wash themselves before entering the sanctuary. In like manner, you are washed clean as your old nature goes down into the water (dies) and you come up a new creature with a divinely-empowered nature. Being willing to let God subdue your selfish tendencies and transform you is an ongoing requirement.
You experience the benefits of the sanctuary as you believe and cooperate. In upcoming chapters, we'll study more about what happens once you get into the sanctuary.
Next Bible Term: Living as a New Creature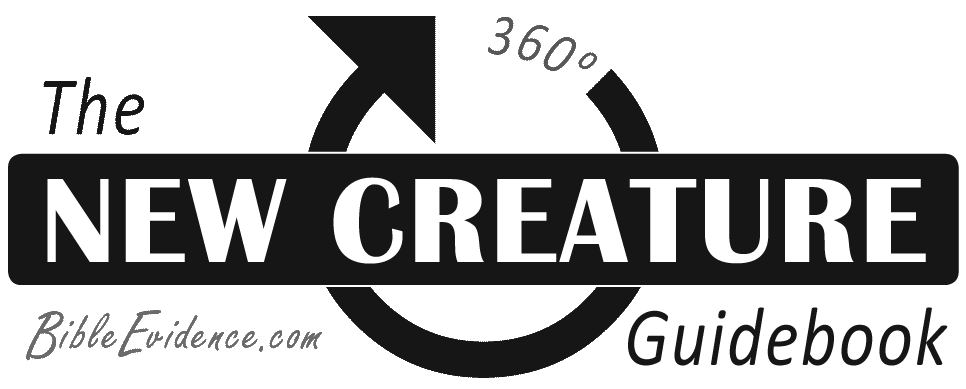 Part One: Emerge
Conversion: The singular instance in time when you become willing and equipped to begin the process of true character transformation.
Part Two: Grow
Overcoming: The process of character transformation and development.
Part Three: Mature
Authentication: The testing and proving of character and its rewards.