Chapter 4. Becoming Repentant
"Or despisest thou the riches of his goodness and forbearance and longsuffering; not knowing that the goodness of God leadeth thee to repentance?" (Romans 2:4)
External behavior vs. internal thoughts
Recognizing something is wrong, is one thing. Ceasing from performing the wrong act, is another. Wishing you still didn't want to do the wrong act is yet another. Truly being willing to give it up is altogether an act of great magnitude. Is this even possible?
One of the Holy Spirit's activities is to convict the world of sin. He points out what is right and wrong. As a person grows up, she learns what selfishness means and at some point understands that it is wrong. When this understanding dawns upon her mind, she becomes accountable for her actions and is called to make a choice. Continuing to indulge in selfishness will only nurture and strengthen that disagreeable trait. On the other hand, she can choose to share, which will in turn strengthen a habit of being kind. Many children learn these types of lessons and grow up to be pleasant and generous adults. However, what is the motive behind their actions? Is it because they want to keep their job? Is it they want to be liked by other people? While these are not bad reasons, they are not the complete answer. In fact, by themselves, these become selfish reasons. True love, which is the opposite of selfishness, desires good for the other person above any other reason.
As the Holy Spirit convicts you of these wrong actions and traits, your response may be to strive to change your behavior. This is good, but remember that sin is not only about behavior, but also includes the thoughts. Now there is really a problem. How can you be expected to have pure thoughts? Isn't it good enough to just not let the thought become an action? No. Jesus taught that the thought is as bad as the action.
"Ye have heard that it was said by them of old time, Thou shalt not commit adultery: But I say unto you, That whosoever looketh on a woman to lust after her hath committed adultery with her already in his heart" (Matthew 5:27-28).
Changing your behavior is hard enough, but changing your thoughts seems like a lot to ask. The Bible teaches that it is actually impossible without God's intervention. Because Adam and Eve, the first humans, chose to believe Satan over God, they separated from God and this world came under the dominion of Satan. Ever since, humans are born with selfish natures, as Satan's rule instigates, instead of with the loving nature that results when humans are connected to God. Because humans are now born with a selfish nature, they are naturally inclined to sin and have no power to overcome being in that state. Thus, they become full of sinful desires and commit sinful actions. Though they can modify behavior to varying degrees, they cannot change their natural inclinations and thus can never completely overcome sin. That is, unless they receive a new nature.
"The heart is deceitful above all things, and desperately wicked: who can know it?" (Jeremiah 17:9).
"Among whom also we all had our conversation in times past in the lusts of our flesh, fulfilling the desires of the flesh and of the mind; and were by nature the children of wrath, even as others" (Ephesians 2:3).
"Can the Ethiopian change his skin, or the leopard his spots? then may ye also do good, that are accustomed to do evil" (Jeremiah 13:23).
"For I know that in me (that is, in my flesh,) dwelleth no good thing: for to will is present with me; but how to perform that which is good I find not" (Romans 7:18).
Humans are not born as though they had already sinned, but because they are born with a selfish nature (also referred to as a sinful nature), they are often referred to as being born "sinners". According to the Bible, being in a state of selfish thinking is our nature. Our hearts are evil and we cannot change them. We are in bondage to sin, being powerless to escape on our own. All humans are in this state when born because they inherited a sinful nature from Adam.
"The wicked are estranged from the womb: they go astray as soon as they be born, speaking lies" (Psalm 58:3).
"Therefore as by the offence of one [Adam] judgment came upon all men to condemnation; even so by the righteousness of one [Christ] the free gift came upon all men unto justification of life. For as by one man's disobedience many were made sinners, so by the obedience of one shall many be made righteous" (Romans 5:18-19).
Definition:
Being Born a Sinner: Being born with a selfish nature (sinful nature) that is naturally inclined to be selfish and desire sin. This does not mean being born having already sinned, but means that, like all humans, you will commit sin because you are powerless on your own to resist it.
Watching how children behave from birth provides further evidence that all are born with a selfish nature. This doesn't mean we think of children as evil. Rather, they are innocent, not knowing right from wrong until they grow and learn. But even though they aren't held accountable for wrong actions in the same way as adults, they are still performing wrong and selfish acts that reflect a selfish nature.
As we grow into adulthood and learn what sin is, we can struggle against it a long time, perhaps so long that we begin to understand that we need help to overcome it. A complete and long-lasting change of behavior along with purified thoughts and motives are beyond what anyone can achieve on their own. Although, self-deception in this area can continue for a long time, even for the whole life. It comes in many forms. It makes excuses. It avoids hard questions. It ignores and doesn't explore motives. Unfortunately, making excuses for behavior is a well-traveled route. A different approach, being honest with one's self, is required in order to be honest with God.
"He that covereth his sins shall not prosper: but whoso confesseth and forsaketh them shall have mercy" (Proverbs 28:13).
"If we say that we have no sin, we deceive ourselves, and the truth is not in us" (1 John 1:8).
What is repentance?
"Therefore I will judge you, O house of Israel, every one according to his ways, saith the Lord GOD. Repent, and turn yourselves from all your transgressions; so iniquity shall not be your ruin." (Ezekiel 18:30).
The Hebrew word translated to "repent" in the text above, means to turn. The text shows how a person who sins is on a path that leads to their own ruin. As humans, we cannot always recognize the full and end result of our actions, but the more we learn and the more we embrace truth, the more we can see the cause and effect. Our own actions cause harm and the world is full of pain as a result. God pleads with us, because He loves us, to turn around and avoid our own ruin that we are bringing upon ourselves.
"As many as I love, I rebuke and chasten: be zealous therefore, and repent" (Revelation 3:19).
Bible repentance (the Greek word "metanoia" is translated to "repent" in the above text) is feeling compunction for guilt and reforming. It includes regret, remorse, a change of mind and a turning away. Thus, true repentence involves more than just asking God to forgive you. You will think and act differently.
Definition:
Becoming Repentant: Being convicted that your actions and thoughts have been wrong, exercising your will in choosing to walk in a different direction, and embracing Christ's gift that makes you capable of truly being sorry for the harm you have caused.
True repentance always includes three aspects:
a) Sorrow - Recognition that your sin has hurt God, yourself and/or others.
b) Confession - Acknowledgement of specific sin(s) and taking responsibility for it.
c) Turning Away - Intentional decision to reform and turn away from the sin.
On the other hand, false repentance is self-centered and primarily concerned with the consequences of the sin.
The source of true repentance
The Holy Spirit is also responsible for giving you, from Christ, the ability to be truly honest and repentant. It is true; you cannot be truly sorry on your own. Repentance come from Christ (see Rom. 2:4).
"Him hath God exalted with his right hand to be a Prince and a Saviour, for to give repentance to Israel, and forgiveness of sins" (Acts 5:31).
"And the servant of the Lord must not strive; but be gentle unto all men, apt to teach, patient, In meekness instructing those that oppose themselves; if God peradventure will give them repentance to the acknowledging of the truth; And that they may recover themselves out of the snare of the devil, who are taken captive by him at his will" (2 Timothy 2:24-26).
In light of the source of repentance, it follows that you cannot repent of your sins and then accept Christ. You will never be successful. Instead, as a result of Christ calling you to repentance as He convicts you of sin, you are invited to talk to Christ and let Him know that you believe He has the answers and you'd like His help. Then, it is His job to give you a truly repentant state of mind. He will help you end the futile struggle of fighting yourself by yourself. Giving your heart to Christ means that He can then work on it with you.
Note:
Giving your heart to Christ is not simply agreeing to go to church and taking on the name of Christian. It is not merely agreeing that what God's says is right. It is a surrender of your entire person, being willing to give up ALL of the things your selfish nature desires, and allowing Christ full access to your mind in order to give you a new nature and make you a truly loving person.
Repentance starts with acknowledging that you are in the wrong. Honesty is key; getting to the fountain's source in the mind. Extreme self-truthfulness may reveal the startling fact that you do not even desire to give up a cherished sin. All you can do is express yourself to Christ and ask Him to help you want to stop wanting the wrong.
"How, then, are we to be saved? 'As Moses lifted up the serpent in the wilderness,' so the Son of man has been lifted up, and everyone who has been deceived and bitten by the serpent may look and live. 'Behold the Lamb of God, which taketh away the sin of the world.' John 1:29. The light shining from the cross reveals the love of God. His love is drawing us to Himself. If we do not resist this drawing, we shall be led to the foot of the cross in repentance for the sins that have crucified the Saviour. Then the Spirit of God through faith produces a new life in the soul. The thoughts and desires are brought into obedience to the will of Christ. The heart, the mind, are created anew in the image of Him who works in us to subdue all things to Himself. Then the law of God is written in the mind and heart, and we can say with Christ, "I delight to do Thy will, O my God." Ps. 40:8" (The Desire of Ages 175.5).
"In order to obtain the righteousness of Christ, it is necessary for the sinner to know what that repentance is which works a radical change of mind and spirit and action. The work of transformation must begin in the heart, and manifest its power through every faculty of the being; but man is not capable of originating such a repentance as this, and can experience it alone through Christ, who ascended up on high, led captivity captive, and gave gifts unto men. Who is desirous of becoming truly repentant? What must he do?--He must come to Jesus, just as he is, without delay. He must believe that the word of Christ is true, and, believing the promise, ask, that he may receive...He who would become a child of God must receive the truth that repentance and forgiveness are to be obtained through nothing less than the atonement of Christ. Assured of this the sinner must put forth an effort in harmony with the work done for him, and with unwearied entreaty he must supplicate the throne of grace, that the renovating power of God may come into his soul. Christ pardons none but the penitent, but whom He pardons He first makes penitent' (Isa. 61:10)" (Selected Messages Book 1 393.3).
Note that you must be repentant in order to be pardoned, but also that you can't be repentant unless Christ gives it to you first. This brings to light the instantaneous nature of Christ's work at your conversion. You reach a tipping point in your life where you are willing to let go of selfishness and let God mold you into something new. In one simultaneous instant, you surrender fully to the Holy Spirit's promptings, you fully embrace Christ's gift of true repentance and He pardons you. Then you are able to truly confess individual sins.
Embracing the true repentance that Christ offers you will produce a willingness to give up sin and walk in a new direction. It is being truly sorry for sin, not just for the punishment of sin. It involves a conscious decision, an act of your will, to be willing to quit committing sin. When you offer your entire life to Christ in true repentance, there will be a turning of your whole life in a new direction:
a) He cuts away your selfishness (selfish nature) (circumcision of the heart).
b) You are pardoned on the record books of heaven and you do not have to experience the punishment for your sin (eternal death).
c) You receive His spiritual nature (a new heart) (the Holy Spirit moves in and connects you to Christ), which gives you power to stop committing sins by changing your motives and desires, and enables you to receive the attributes of His character needed to change your habits and harmful thought processes.
Notice that the solution takes care of the sins you have already committed (complete pardon), and it takes care of the future by changing your motives and habits (new creature). Once your overwhelming desire for sin is broken, it is much easier to change your habits because you really won't want to desire them or do them anymore.
It is important to note here that accessing the solutions listed above as part of Christ's cleansing power requires a complete, 100% surrender of yourself into Christ's hands. What this means is that you cannot truly accept Christ and give just one sin to Him. You must give Him all of your sins. This doesn't mean that you have to know what all your sins are or be perfect in order to accept Christ. No, it means that you must be willing to allow Him to point out your sins and help you overcome them. Understand that by accepting Christ's help, He will enable you to truly want to change, and to be truly sorry for the wrongs you are committing. It is futile to wait to approach Christ until your life is more presentable or "cleaned up". You will never be able to be truly sorry or clean things up on your own. You will never "look good" or in any way possess anything that would make Christ more likely to help you.
"Come to Christ just as you are, weak, helpless, and ready to die. Cast yourselves wholly on His mercy. There is no difficulty within or without that cannot be conquered in His strength. Some have stormy tempers; but He who calmed the stormy sea of Galilee can say to your heart, if you repent, 'Peace, be still.' There is no nature that Christ cannot subdue, no temper so stormy that He cannot quell it, if the heart is surrendered to His keeping" (The Upward Look 321.4).
"Without the divine working, man can do no good thing. God calls every man to repentance, yet man cannot even repent unless the Holy Spirit works upon his heart. But the Lord wants no man to wait until he thinks he has repented before he takes steps toward Jesus. The Saviour is continually drawing men to repentance; they need only to submit to be drawn, and their hearts will be melted in penitence" (Counsels to Parents, Teachers, and Students 365.4).
"Repentance includes sorrow for sin, and a turning away from it. We shall not renounce sin unless we see its sinfulness; until we turn away from it in heart, there will be no real change in the life. There are many who fail to understand the true nature of repentance. Multitudes sorrow that they have sinned, and even make an outward reformation, because they fear that their wrongdoing will bring suffering upon themselves. But this is not repentance in the Bible sense. They lament the suffering, rather than the sin" (Conflict and Courage 63.7).
"The faith that justifies always produces first true repentance, and then good works, which are the fruit of that faith. There is no saving faith that does not produce good fruit" (Our High Calling 52.5).
Confessing your sins
Once you accept Christ's help and embrace His gift of a repentant heart, you are instructed to confess your sins.
"If we confess our sins, he is faithful and just to forgive us our sins, and to cleanse us from all unrighteousness" (1 John 1:9).
Confession is done by praying to God, acknowledging specific sins, expressing sorrow for them and asking for Christ's atoning work to eliminate them in the record books of heaven and in your life. After confessing, live forward, as though that sin is behind you. Don't give it the time of day. Don't make any plans that would accommodate it.
"But put ye on the Lord Jesus Christ, and make not provision [forethought, supply] for the flesh, to fulfil the lusts thereof" (Romans 13:14).
Christ has empowered your will to stand firm. Since the power to overcome is from God, you can be successful.
An ongoing repentant state of mind
Be prepared, because once you take the first step of placing yourself in Christ's hands, you are submitting yourself for His molding of your character. After He gives you all the power you need to overcome sin (true repentance and a new nature), He will then reveal specific sins to you... one after another, and another; sins that you perhaps didn't even know you were committing. He will help you break harmful habits. Just like the Israelites brought a lamb or sacrifice whenever they had sinned, you are to bring each sin to Christ and confess it, so He can atone for it, cleanse you from it, and impart to you the attribute of His that you need in order to overcome it.
"He will have compassion upon us; He will subdue our iniquities; and Thou wilt cast all their sins into the depths of the sea" (Micah 7:19).
Rejoice when you learn another truth about yourself!
"Charity [love, affection] suffereth long, and is kind; charity envieth not; charity vaunteth not itself, is not puffed up, Doth not behave itself unseemly, seeketh not her own, is not easily provoked, thinketh no evil; Rejoiceth not in iniquity, but rejoiceth in the truth; Beareth all things, believeth all things, hopeth all things, endureth all things" (1 Corinthians 13:4-7).
A fundamental aspect of love is telling the one you love the truth, not only about yourself, but about your loved one's behavior. This can be difficult. We get our feelings hurt so easily. We also get defensive and lash out, blaming the messenger. Yet, if we truly love another person we will not only kindly tell them certain necessary truths about themselves, but we will also appreciate it when a loved one cares enough to share the truth with us. More than any earthly friend, God loves us. More than anyone else, He desires for us to know the truth about ourselves and the world around us. Thus, when God reveals another one of your harmful habits, you can rejoice that He loves you enough to tell you the truth and help you overcome it.
Though Christ supplies the power and desire within you, the process of letting go of each sin is not always easy. In fact, the apostle Paul refers to overcoming sin as dying everyday (1 Cor. 15:31). That sounds very unpleasant. But, does it ever get easier? This intense struggle is addressed in the next chapter.
"He always pardons when confession is made" (Evangelism 370.2).
Next Bible Term: Taking Up Your Cross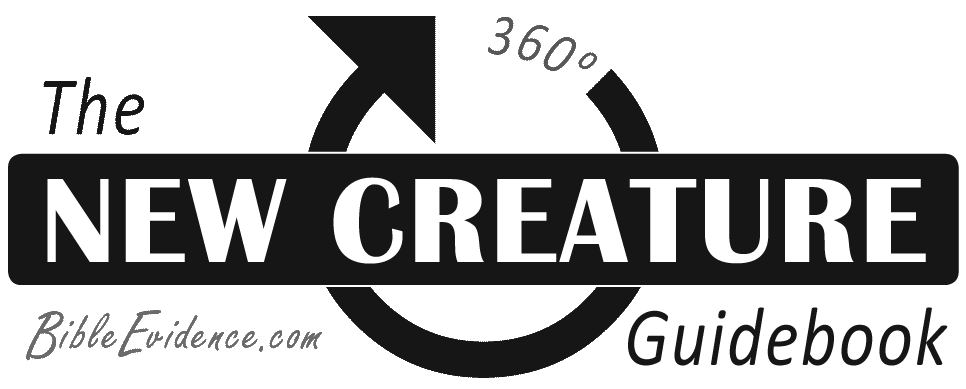 Part One: Emerge
Conversion: The singular instance in time when you become willing and equipped to begin the process of true character transformation.
Part Two: Grow
Overcoming: The process of character transformation and development.
Part Three: Mature
Authentication: The testing and proving of character and its rewards.